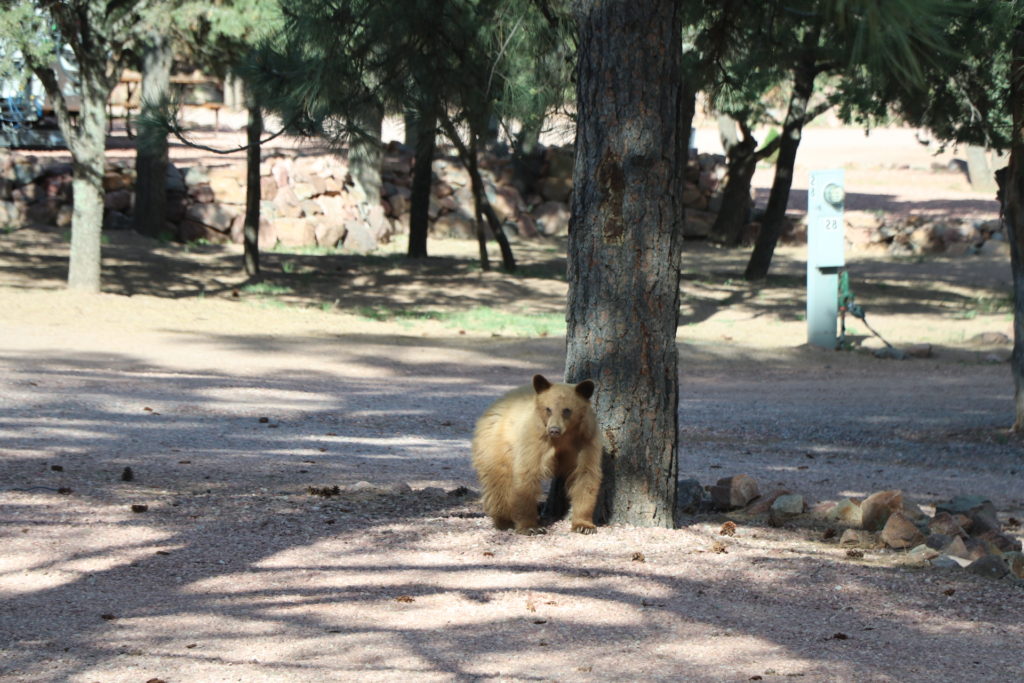 So I left off my last post of our Colorado adventure heading north with a pit stop for an RV recall. As promised, we were in and out in a couple of hours. I have to tell you — in the RV world, that is a miracle. So we were in a pretty nice RV park in Fort Collins. That bear you see at the top of the post was visiting the empty campsite in front of us. You don't see that every day.

We had a great time in this neck of the woods. In my opinion, northern Colorado is better than the south end. I don't think I would ever go back to Colorado Springs (except maybe for a haircut – I found a great stylist there) because we can say we have been there and done that. But the Fort Collins area has so much more to offer. I can definitely see us returning. The RV Park we stayed in was pretty central. It even had a pickle ball court. We have been talking about taking up the game so we decided to go get some paddles and balls and do it. I have to tell you that it is a blast. We would walk over to the court in the morning after breakfast and get in some really good exercise. We bought a GoPro so next time we play we will need to get some action photos.  That should be good for a few laughs.

Our first adventure here, besides the pickle ball, was a hike up Horsetooth mountain. This was nice because it is just outside of town. We hiked up to the top (well I almost made it but chickened out at the very top) and had some great views of the surrounding area. Here are some photos.

One thing we really liked about this area was the Sculpture Gardens. There were several around town. It was nice to just stop and take a leisurely walk around and look at the art. I can just imagine what it would be like to live there and stop by on a nice day with a picnic lunch. We were so busy the two weeks we had there that we had no time. Oh well, maybe next time.
| | |
| --- | --- |
| One of the best parts of this area has to be Rocky Mountain National Park. We did an 11.2 mile hike which was beautiful but LONG! I might be getting too old for a hike that long or maybe it was just the climb that did me in. I was exhausted but it was beautiful. I did a 5 minute GoPro movie that shows some of the hike. If anyone is interested in seeing it, just comment here and I will email it to you. The waterfalls were something to see. There is so much snow melt that the water is just flowing in so many places. And everything is so green. Rocky Mountain National Park is definitely a must see for anyone out in this neck of the woods. | |
Besides hiking and pickle ball, we got in some golfing. We drove to Greeley to see the campus of Northern Colorado University where Kean's nephew, Garrett Trummer, went to school. And we spent a really nice afternoon in Boulder with Garrett's host family, Jonathan & Shari Schnee, who he lived with for a while out here. All and all a very busy and enjoyable two weeks. Like I said — we will be back!
| | |
| --- | --- |
| | So northward we go up to Livingston Montana. We were in an RV park right on the Yellowstone River with fabulous views of the mountains. |
| | |
| --- | --- |
| While in Livingston we visited Yellowstone National Park for a drive through the park where we saw lots of bison, a couple of bears both black and grizzly, elk and deer. We kept driving on Beartooth Highway and saw lots of snow, a guy doing back flip ski jumps over a road, and a guy skiing using a sail. How cool is all that! All things you don't get to see everyday. Oh, and the last photo shows you only something an old skier knows how to do. | |
| | |
| --- | --- |
| | While here we got to do some whitewater rafting. Not too exciting except for the fact that the water was really, really cold. (The river was just too high for a really exciting run.) We've rafted a few times before but in warm water. We had on wet suits and splash jackets and water socks. It just reminded us that this is something that we like to do so will have to seek it out somewhere else along our travels. It is hard to get photos when you are busy rowing but Kean had on the GoPro so we captured a few off of that. |
| | |
| --- | --- |
| We did do a hike in Yellowstone and were prepared with our bear spray just in case. No, we didn't see any bears while hiking which is a good thing. You do have to be careful walking and to stay on the trail because of the bubbling, stinky, sulfur smelling hot vents that are all around. | |
| | |
| --- | --- |
| | After Yellowstone, it was time to go further north to West Glacier. It was raining, sleeting, and we had some hail while there. We were able to get a hike in and it is another beautiful area. We hiked up to a lake and had lunch while Kean watched my back for bears. I was eating tuna and the smell was strong. I thought for sure I was going to be lunch to some big ole grizzly. |
Now we have arrived in Idaho. Not much hiking in this area but we are hoping for some biking and golf while we are here. Haven't seen a pickle ball court but we're on the look out. Stay cool!