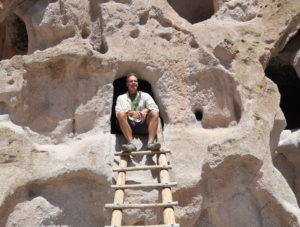 So after pretty much hunkering down for the winter we hit the road for Arizona. First stop was Tucson for a couple of weeks. Unfortunately, the day we drove in we got a warning light on the motorhome. We spent the next few days at Freightliner getting a clogged hose repaired. Luckily we were in an RV park close by and were able to take it home each night to sleep. It was still a pain but we got through it and best of all — it was under warranty. Yay! Besides the repair, we played some golf and rode our bikes on one of the trails that passes right by the RV park. Tucson is a great place for bike riders.

After Tucson we went back to the Phoenix area. On the day before we arrived we discovered that our friend, Chris Burton, was going to be there. We were fortunate to have dinner with him and an old friend of Kean's, Kurt and Kurt's wife and mother. Timing was wonderful and we had a great time. So here we settled in to a place that we like a lot. We targeted a golf neighborhood last year so we spent more time there this year. Everyone keeps asking us where we will settle down and this might just be our winter home. Everything we have learned about this community fits us to a tee (okay, pun intended). I have some photos so you can see what I mean.
| | |
| --- | --- |
| | From Arizona, we headed northeast to New Mexico where we are now. We haven't spent time here before so it was time to explore. Our first trip was to Taos. It was a fun day trip. We experienced the small, artsy town, had a great Southwestern lunch and then drove over to see the Earthship community that I had read about. Homes and communities are being built around the world that are totally off the grid. Not something that I could ever see myself doing but I found it quite interesting. I was bummed that I couldn't get into any of the homes but at the visitor center we could get the idea. |
| | |
| --- | --- |
| Another day trip took us out into the middle of nowhere to see the Very Large Array (VLA). There are 27 dish-shaped antennas that combine to make a powerful radio telescope. If you have seen the Jodie Foster movie, Contact, you saw these telescopes. What confused the heck out of me was that in the movie it was a SETI location and she was listening into space. This is not was happens here. They are viewing things in space for scientists around the world. While we were there the antennas where spaced out to their furtherest distance of 13 miles. During other times of the year they are closer together and we would have been able to get better photos. Another interesting discovery on our travels.  And quite the learning experience. | |
| | |
| --- | --- |
| | While planning on what we wanted to do in Albuquerque, I saw that there is a Leonardo da Vinci exhibit at the Natural History Museum. I have just finished reading a book on da Vinci and was excited to get to visit the exhibit. Now the museum wasn't much in comparison to the Washington DC version but I enjoyed the exhibit. And I just love this sculpture outside the museum titled "Arc of Peace".  Thought I would share it with all of you. |
| | |
| --- | --- |
| Another road trip on this New Mexico journey was to Bandelier National Monument. We have seen cliff dwellings before but never up close like this. We were able to climb up to where the Ancestral Pueblo people lived around the 1150 time frame. We even took the long ladder climb to the Alcove House and not only reveled in the views but we stood where native people stood so long ago. It was quite amazing. Definitely something to add to your bucket list if you are ever in this neck of the woods. | |
| | |
| --- | --- |
| | Our final day trip was to Santa Fe. We started off at Meow Wolf, what Kean called "really bizarre". It is an interactive art experience. We spent a couple of hours there going through a maze of rooms (or refrigerators and dryers) trying to experience it all. It really is quite overwhelming. I got to play a musical dinosaur bone display and Kean played on a laser harp. We climbed up, down, around and through it all and I got lots of photos along the way. These are just a few.  They have a few locations around the country.  If you are ever nearby you definitely have to go. |
After the Meow Wolf experience, we went to the Plaza in Santa Fe and had lunch and soaked in the Southwestern charm. During our time here we got in some golf.  Even walked a round at over 5000 feet elevation.  My lungs will never be the same again.
Now we leave tomorrow for Colorado. We haven't experienced this state so we are looking forward to another fun adventure. If anyone has any Colorado must see things to do, please share in the comments section. We are always open for new experiences.