What a beautiful place! We are parked in Camp Verde AZ, about midway between Prescott and Sedona. The day after we arrived Kean planned a nice day trip to the local monuments. We saw Montezuma's Castle first.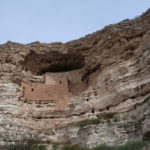 We spent some time just walking around looking up at the magnificent cliff dwellings. There was a local Native American playing such peaceful music on a native flute that I wish I could of recorded it to share with you. It was so beautiful and fit so well with the surroundings. I loved it so much that Kean bought a flute in Sedona and has been playing for me.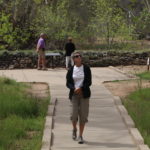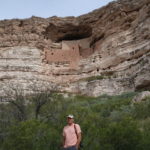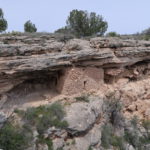 From there we went to Montezuma's Well.  It is basically a big whole in the ground that water continuously flows into and back out again.  There were cliff dwellings there too.  Next was Tuzigoot which is an archaeological site of a past dwelling.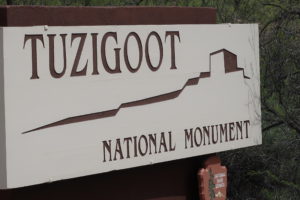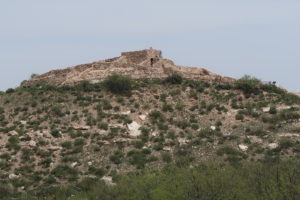 And the final stop on the tour was Palatki Indian Ruins.  Here we saw some more cliff dwellings and also some cave art.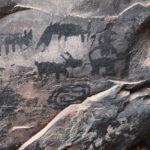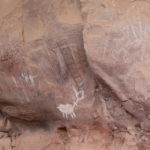 All this dates back to between 1100-1300.  Pretty cool!
We got in a round of golf in Prescott and another in Sedona.  It was a bit hard concentrating on golf with all the views around the course in Sedona.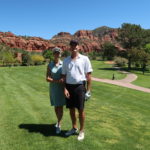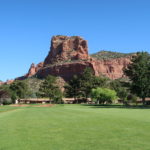 See what I mean.
Hiking was also on the agenda as you might guess.  The first hike we did was up to Devil's Bridge in Sedona.  Needless to say we had some beautiful views throughout.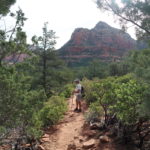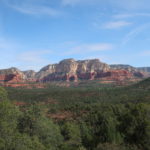 And I have to tell you the bridge itself is awesome.  You hike to the top of this mountain and there is this rock bridge that you can walk across.  Here is what it looks like.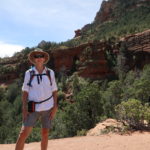 Not much from the ground level, but when you get up to it,  it is a different story.  Kean, of course, was the brave one to walk on it.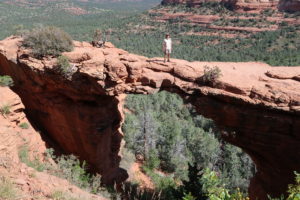 I was freaking out because it looked so narrow and so fragile to walk on.  When some people came back and said it wasn't as narrow and it looked, then I put on my big girl pants  and went out too.  And we couldn't miss a photo op,  so a nice women got us out there together.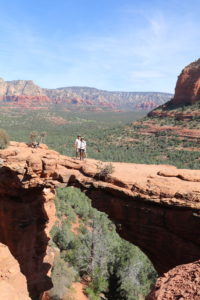 Thankfully the rock held and we survived.
Another road trip we took was a long, rocky road from Flagstaff to Sedona.  It had wonderful views but I have to tell  you that it was the roughest road I have ever been on.  Good thing we have a Jeep because a car couldn't make that trip.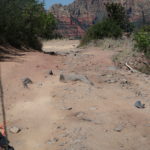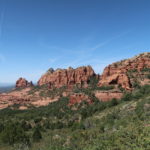 And the tour companies take people up for the views too.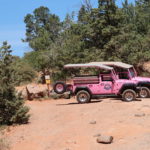 The final hike was around Bell Rock in Sedona.  This was a pretty easy hike with again, great views of red rocks.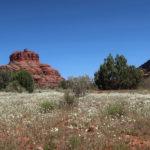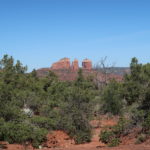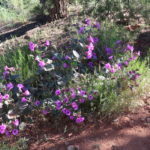 And you just never knew what you were going to see just around a corner.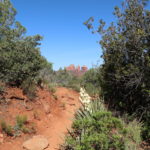 Oh, before I forget again, I neglected to mention in the last post that we ran into some folks in Phoenix that know our old neighbors.  Dickie & Dee we met Terry Jenkins & Josie Donahue at the RV park we were staying in.  I have to tell you that it is a small world.  Terry was a teacher at Cox High School, the school that served our neighborhood and they have been on the road for 4 years now.  It was like old home week for a few minutes.
Well tomorrow we head north to Williams AZ.  This will be the base camp for our Grand Canyon expedition.  I see a lot more hiking in my future.
I will leave you today with some cool nature photos that Kean took.  He is becoming quite the photographer (along with playing the native flute for me 😉  )