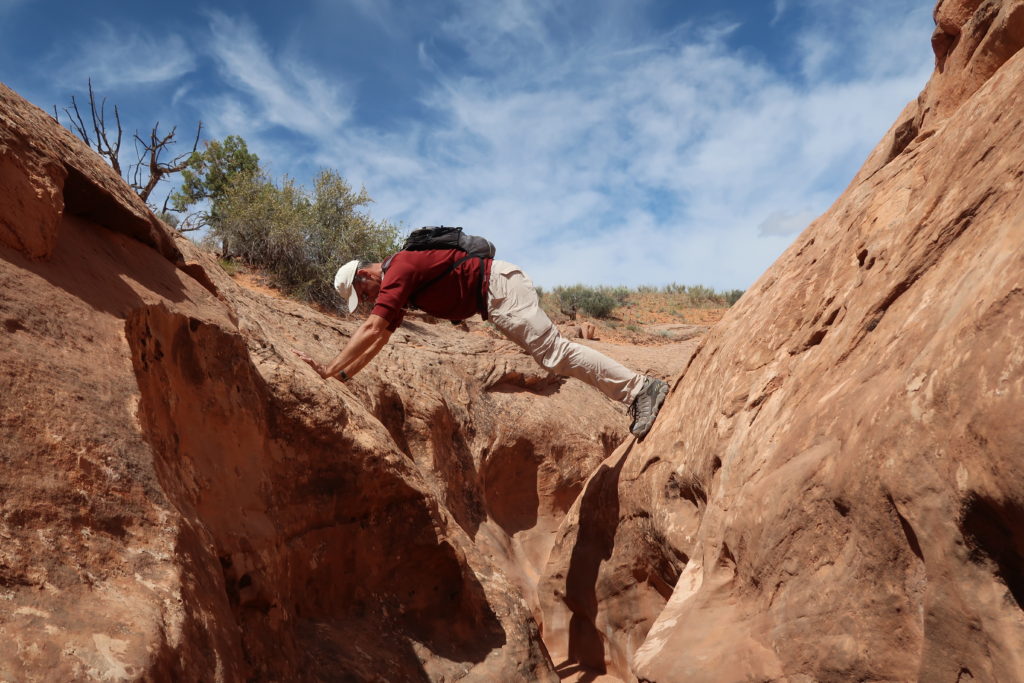 Utah has lots of rock and it does rock.  We have been hiking our little legs right off.  We left Las Vegas and used Hurricane Utah as our home base for exploring Zion.  Kean chose two hikes in Zion — Observation Point and Angel's Landing (thanks Scott French for the recommendation).  I opted for Observation Point first because it was longer of the two and had more elevation.  Frankly, after 4 miles up and then back down, I wasn't sure what condition the legs were going to be in afterward so I wanted to do that one fresh.  We started out early to get the shuttle to the trailhead.  Like the Grand Canyon, there is no driving in the park but the shuttle system is wonderful.  As you might guess the trip up was a bear but the scenery was beautiful.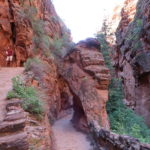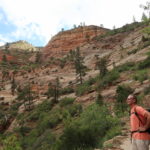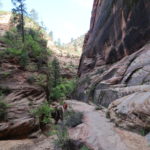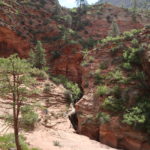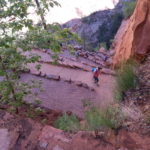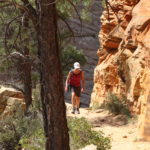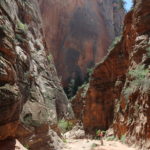 | | |
| --- | --- |
| After getting to the top we could see for miles all around.  We could even look down on the top of our next hike, Angel's Landing. Here are some photos from the top.  If you zoom in on the last photo, you can see the people scaling the ridge of Angel's Landing. |       |
| | |
| --- | --- |
|      | After hiking Observation Point we had two days of rain before we were able to hike again.  We had forgotten what rain looked like.  We had not seen rain since we were in Tucson almost two months ago.  Angel's Landing is the most popular trail in the park and after the rain, everyone was out.  It was crowded, even though we were out early.  The hike was shorter but the last half mile up was super steep and narrow with posts and chains to keep you from falling off the edge and to aid in pulling yourself up.  PEOPLE HAVE DIED ON THIS CLIMB!  With my fear of heights in check, we headed up.   The crowd of hikers didn't make it any easier.  In some places it was so narrow that someone had to step away from the railing and pray they didn't fall off the edge.  I hung out on the outside a couple of times and hoped that the folks coming in the opposite direction didn't slip, knock into me, and send me over the edge.  Kean said after we were down that he didn't think that I would go up.  Well I sure surprised him. |
| | |
| --- | --- |
| We also took a drive around to the other side of the park.  It is amazing how the scenery and topography change throughout the park.  It is a beautiful place. We even saw wildlife and like everyone else, stopped the car to shoot their photo. | |
| | |
| --- | --- |
|          | After a week at Zion, we headed west to Panquitch Utah which was our home base for Bryce Canyon.  This was the one that I was really looking forward to because it is so different than the ones that we had already visited.  The hoodoos are definitely a sight to see.  Here we started at the top, like the Grand Canyon, and hiked down to the canyon floor.  The views all around as you hike are breathtaking.  And as with all our hikes. the hikes up and down are so different because the light changes throughout the day and the views change along with it.  It was much cooler here than at Zion.  And the winds whip up every afternoon.  I guess that is what helps shape the hoodoos to look like they do. |
| | |
| --- | --- |
| Instead of another hike into Bryce Canyon, we elected to drive out a ways to explore a couple of slot canyons.  We drove about an hour and a half out and then had to drive another hour on a bumpy dirt road.  A long drive but it was worth it.  We had so much fun.  It was like a big kids jungle gym.  The first one, Peek-a-Boo, we had to climb up 12 feet just to get into the canyon. Kean had to lend me a foot to use as a brace to get up as I wasn't tall enough to reach a hand hold in the rock.  In fact, Kean lent me a hand, a foot, and even a push on the butt to get me through both canyons.  Only one time did I really start to freak out.  I was playing around on a higher level when I realized I better get down or I would be stuck up there with no where to go.  I climbed down with my backpack on and got wedged in between the canyon walls.  I had to maneuver the pack off to get unstuck.  Much of time it was so narrow that we had to carry our packs instead of wearing them.  I even practiced chimneying even though I didn't have to use it.  The last photo here is me crashed out on a rock eating grapes and loving life while Kean went off to take photos. |           |
It was a great couple of weeks.  Not sure we can top it but shucks, we'll have to try.
By the way, what do you think of the new blog format?  Kean didn't like the way it flowed so he decided to do some coding and made it easier to group the text with the photos.  He even added a page of his own, so check it out.  It is called Kean's Favorite Photos.