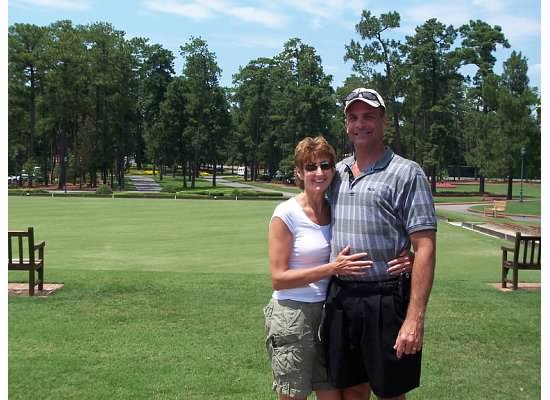 We, Kean & Kathy, are a married couple, no children, no (current) pets. We decided long ago that we wanted to retire at age 55 and along the way we worked hard to make sure that happened.  Well Kean turns 55 in 2015 and will retire from the Navy Exchange System.  Kathy, being older, semi-retired from Real Estate in 2014 and fully retired in 2015.
We wanted to fill our post working days with things that we enjoy — golf, hiking, biking, traveling, sightseeing.  Much thought was given on how to easily accomplish all of this.  Plane travel has gotten to be too much of pain and living out of hotel rooms didn't sound like much fun.  Add to that the burden of trying to eat well and exercise away from home.  Then we thought, why not get a motorhome and travel that way.  Sounded like fun so we thought some more about it.  Would we keep the house and travel part-time?  Sell the house and go full-time?  Well, after thinking it through, we decided to sell the house and live full-time in a motorhome.
Now to decide which motorhome and how to accomplish this.  We went to many RV Shows, looked at many floor plans online, talked to a few folks and finally decided on a diesel powered Winnebago Journey 42E.  Once we decided on this, we were able to start the wheels in motion.  We traded Kean's Cadillac for a Jeep Wrangler to used as our tow car.  Next we started to get the house ready to sell.  We worked on it  for a year and a half, doing a lot of the work ourselves.
Now, motorhome is bought, house is for sale, and we shift our focus to what comes next.
So that's our story!  Our Part II is just beginning.  Wish us safe travels and follow along with us as we "Journey" across this great country of ours.  It's going to be a wild ride.