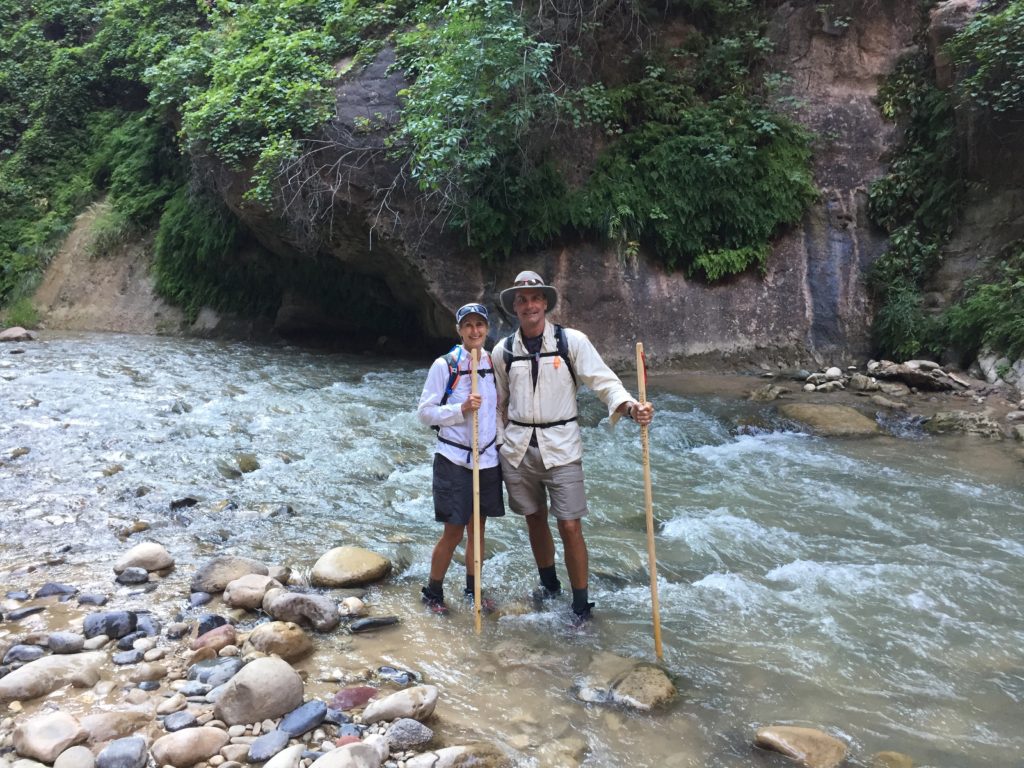 The ride continues. Two years have passed since we retired and hit the road. We have comfortably settled into our new lifestyle. Sure, stuff still happens but we are more likely now to take it in stride and move on. Kean has recently replaced an AC fan (and two others while he was at it), a broken motor on our house fan, and is waiting for a new component to fix our wonky TV system. Luckily small repairs and nothing he couldn't figure out.
And man and have we been busy this spring and summer. I might be needing a vacation from our overly active lifestyle. It seems we are always on the go but hey, it sure beats working for a living. Let me catch you up on where we have been and what's been happening.
In my last post I mentioned that we were in Blanchard Idaho playing golf. Ten rounds in fourteen days is more golf than I have ever played in that short a time. I gotta tell you — that much golf gives your body a real beating. While there, Kean found his game and I lost mine. It was a nice course and a nice resort and we really enjoyed our time there. We played golf and then upon returning back to the motorhome we grabbed our bikes and rode to the pool to cool off. The weather cooperated the entire time except for the smoke. We couldn't escape the smoke in Idaho, Montana, nor Utah. The entire Northwest seemed to be on fire.
From Blanchard we drove just a little way south to Athol Idaho. We had a week here but that wasn't enough time. It is definitely marked for a return trip. We needed more time because of the town of Coeur d'Alene and what surrounds it. We of course had to play the Coeur d'Alene Resort course and have a go at the famous island green. It is a beautiful resort course where you have a fore caddy which was a first for both of us. I was a little intimidated at first but he was a nice kid and really pretty helpful. The island green was a hoot. None of our foursome hit the green but it was fun trying. You actually have to take a boat ride out to the green from the tee box area. Quite the experience and I am glad we did it. They even have a person set up to give you a chair massage near the driving range. How cool is that! Of course, I had to partake though it didn't help my game much. Thanks Chris Burton for recommending this course. We hope to play the course with you sometime in the future.

We got to spend our 28th Anniversary here so we went out to dinner at a nice restaurant downtown that had a Jazz band playing. Nothing better than live music, good food, and of course, the one you love.

Another fun trip from this location was a bike ride on The Route of the Hiawatha. Fifteen miles (thankfully downhill) on a rails to trails route through mountain tunnels and over rail trestles. The views were amazing and if you are ever in the area, this is something you really have to do. It is not a hard ride so don't let the distance scare you into not doing it.

 
| | |
| --- | --- |
| | Next we made our very first trip to Montana. Neither of us had ever been to this state so that made it extra exciting. First stop was Polson. We stayed at a nice motor coach resort that had a small airport runway right out our front window so that was fun watching the little planes take off and land. Unfortunately it was smoky but we made the best of it. Our views of the mountains and the lake would come and go with the winds. From here we had easy access to Glacier National Park where we did a day hike down to the lake. As you will see in the photos we caught a mountain goat napping on some snow and another goat wandering the meadow. Saw some other small animals but no big horn sheep or any bears. We weren't too afraid of the bears yet because there were lots of people around, though we still had our new whistles and bear spray. |
| | |
| --- | --- |
| From Polson we headed to Dillon Montana. We started our trip here with a hike in Yellowstone National Park. (As you can see, we are getting our money's worth out of our National Parks Pass.) Again we were warned to have bear spray but lots of people on this hike too. The hike led us to a waterfall which was a nice stopping place for lunch and for Kean to practice his yoga (we saw a much younger guy do it so I had him show me what he still had in him and by George, the old guy still has it) After lunch we hiked to a couple of small geysers. After the hike we drove over to see Old Faithful. She gushes about every 90 minutes but she was late that day. Of course we all stuck around and eventually she did her thing. And just so you know, the park ranger called it a her so I did too. It was quite the sight to see. | |
| | |
| --- | --- |
| | After the crowds at Yellowstone, we sought a much quieter place and found a hike in Beaverhead-Dearlodge National Forest. This hike was definitely less traveled and we were sure to make lots of noise and have the bear spray handy. We hiked up to a mountainside lake where there was an old plane crash. Definitely not something you see everyday. We sat beside the lake on some rocks and had our lunch. Kean takes me to the nicest places for lunch. And as a bonus, we make it back down the mountain without seeing any bears. |
| | |
| --- | --- |
| | So now it is time to leave Montana and start making our way back south. First stop Heber City Utah near Salt Lake City. We had spent a night in Salt Lake City on our way north and I thought it would be a good place to come back and spend some more time. We planned on having three full days this trip and found that this was not nearly enough. Heber City is over the mountain east of Salt Lake and away from the city rush. We already have booked the month of September next year to come back. While here this time we went into Salt Lake to shop. We had been out in the sticks for so long that we needed a few things. While in town we stopped by the Mormon Tabernacle to check that out. On another day we discovered Park City and found it to be such a quaint little town. With the Olympics having been around here, there is quite a bit to do in all seasons. We are just hoping that a month will be enough. We will be back! |
| | |
| --- | --- |
| Another place we said we would come back to was Zion National Park to hike The Narrows. From Heber City we drove south to Hurricane Utah where we had stayed in the spring. During our spring trip we did a couple of hikes in the park but couldn't hike The Narrows because it was closed to hikers. Well I have to tell you that September is the perfect time for this hike. I was afraid that the water would still be cold but it really wasn't. We did rent canyoneering shoes, neoprene socks and a hiking stick. This was a bucket list thing to do but I was still a little apprehensive not really knowing what to expect. We set out on the first shuttle bus to beat some of the crowd and the heat. It was cool in the canyon but not uncomfortably so. The hike itself was harder than I expected because of the rocks and the water current in some places. While walking in the water you are walking on large rocks that you can't see. Some are moss covered and slippery. The rental boots helped but you still had to take it slow. I have to admit, though no one should be surprised by now, but I did fall in coming back through. I hit a slick rock and the currant got me as we were crossing a deeper section. I had a hard time getting back up in the strong currant and had to ask Kean to give me a hand. Of course it was at a busy crossing and a bunch of people saw me fall but oh well, life goes on. Another scraped knee and best of all, I got soaked. At least Kean didn't need to come find me further downstream. And again, if this is something you haven't done, put it on your list. Thanks Scott French for the tips. Wish you and Anne had been there with us. | |
Wow, I didn't realize I was so far behind in my posts again. This turned out to be an all day affair and I have not even caught you up-to-date yet. I think I will leave it here and give you a rest from reading and try to get one more post done before we head back east. Until then my friends, Happy First Day of Fall!!