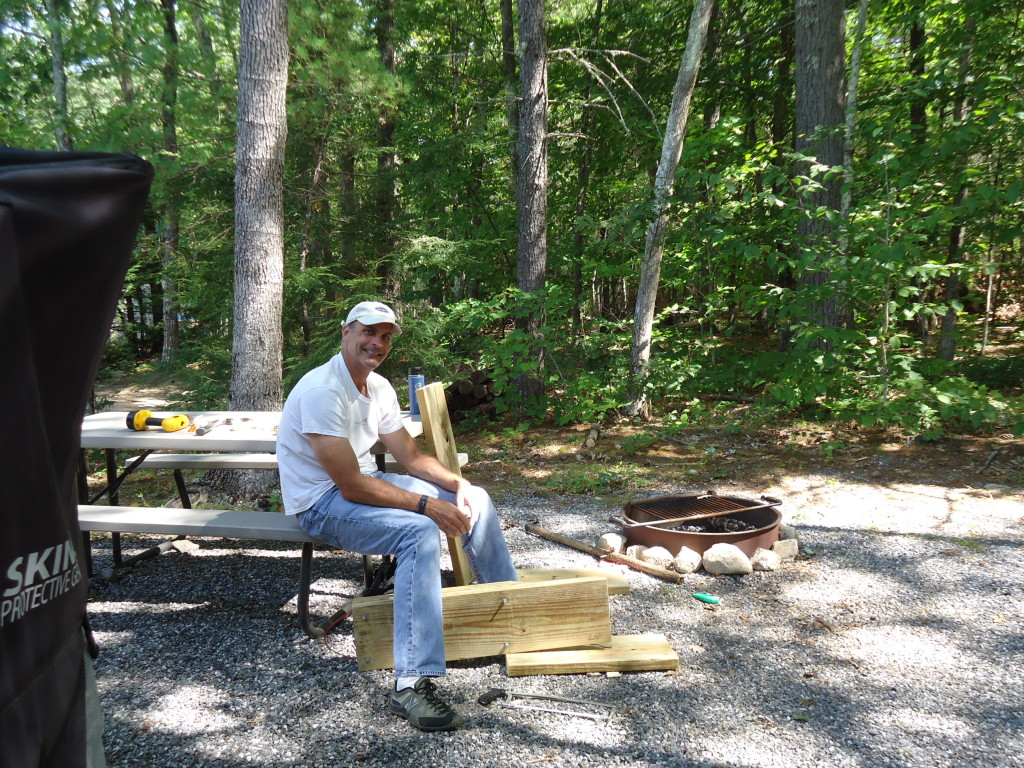 I'll get to the crisis later.
Well as you can see from the map, we have moved on from the Freeport area and are now in Naples Maine.  Not a long drive, just a little more south and west.  We spent 11 days in Freeport and it was just the right amount of time.  It was a great area with a couple of good golf courses nearby.  My favorite was Fox Ridge Golf Club.  This was a thinking person's course.  Many of the fairways were split by water or some other obstruction so it wasn't just go out and slam out your longest drive.  You had to plan your moves.  We played it twice and it was much more fun the second time knowing the course a little better.  Another good feature about where we were was that the State Park was 3 miles up the road.  It was a great place to hike and bike.  The park was split into an east and west side.  We hiked both sides and Kean mountain biked it also.  It also had a great kids playground that was more than just a swing and slide.  We were able to use the bars for some upper body exercise work.  And since the area was a little more urban, I was able to find a good place for a haircut and we both got massages.  The massages were needed after what we have put our bodies through this past month.  Another good thing about the area was that it was central to some good sightseeing.  Of course we had to visit the LL Bean flagship store in Freeport.  The outlet stores were nothing to write home about plus when you live in such a small space buying anything really has to be a necessity.  A day trip to Boothbay Harbor was fun.  Here is a photo of the front yard of a small inn there.  The woman working in the yard did all the work herself.  I told her it was the most beautiful yard I have ever seen and I really did mean it.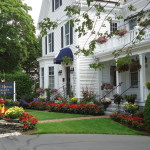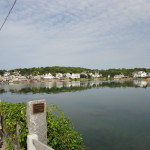 So on Thursday we packed up and moved on down the road. As I said, it wasn't a long drive and uneventful (thank goodness!). We arrived at the campground and it is a little tighter than we like, but the site they gave us is long enough and has enough room to maneuver.  We can't be too picky and were lucky to even get a campground for the holiday weekend.  Anyway, we get backed into the site into what looked like the levelest part of it.  We proceed to level the coach and can't get it level because there was too much slope in the front.  Then the crisis hits!!!  The leveling system came up with an error message that said "low voltage".  At this point nothing works.  OMG!  We can't lower the jacks and the front tires are about a good inch off the ground and we aren't level.  I break out the manual and Kean gets on his phone and starts looking for solutions.  We find something about a fuse but the manual doesn't say where this fuse is located.  So after exhausting all efforts, Kean calls Winnebago customer service.  After a short hold for someone to answer, a rep gets on the phone and directs Kean to where this 15 amp fuse is located.  Fuse is fine.  He then directs Kean to the back and there is another 125 amp mega fuse near the battery compartment.  It wasn't like any fuse we had ever seen and the only way to test it is with a muti-meter.  Thankfully, Kean has one so he tested it and sure enough, the fuse was blown.  The rep said the fuse could be found at any auto parts store, so off we went.  I do have to say that the Winnebago service rep was really great.
Friday was spent as you see in the photo at the top.  We had made a stop at Home depot and got some wood and had them cut it into lengths to make some blocks to raise the tires to help level the coach.  Kean spent most of the day cutting the edge at an angle with just a hand saw.  (What a man!)  This made it so you could drive up onto them easily.  He then drilled a hole (he did keep his power drill) and bolted the two pieces together.  He then replaced the 125 amp mega fuse and SUCCESS!! the leveling system worked again and we were able to level the coach.  We plan on getting another fuse and keep it on hand in cases this ever happens again.  Not sure what caused the fuse to blow but it is fixed now.  I am sure the wheel blocks will come in handy at another campground somewhere so we'll have them if needed again.
We have learned this — if you want to live in a motorhome, you have to be a good handyman and be able to do a lot of repairs yourself.  We would be stranded here if we would not have been able to get those jacks up.  Luckily Kean is a good handyman and has been able to fix just about everything that has come up so far.  Fingers crossed that this continues to be the case.  One thing that I can say is that we are sure learning the inner workings of this home on wheels and it is a complicated machine.
So we are in Naples for 11 days and will see what this neck of the woods has in store for us.  Hopefully, a nice crisis-free time.  Here are a few more photos.  One is Kean's finished product (nice work, huh?), something I thought was funny (people walking around in a bathrobe to go to the bath house and makes me really happy that I have my own bath and shower), and a photo that I took while hiking that shows that the leaves are starting to change up here and fall is on it's way.
Until next week my friends, have a good one!