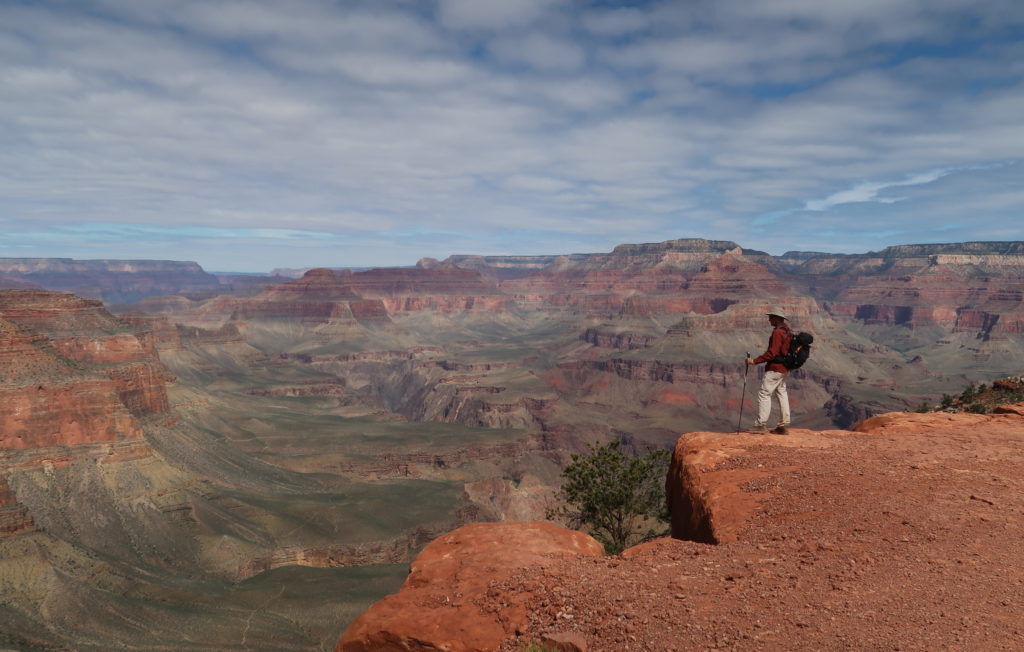 I gotta tell you, this is the best photo I've ever taken. Of course the subject matter was unbelievably beautiful. If you have never been to the Grand Canyon, this is a definite bucket list place to go. We took lots and lots of photos but a simple photo just can't do it justice. It is so large that at any given point you are looking at just a small portion of the entire canyon. We were at the south rim and took one of the shuttles that traverse a portion of it and it is hard to wrap your head around the beauty and scale of what you are seeing.
| | |
| --- | --- |
| We did two hikes at the canyon. On both hikes we went out early to beat the crowds. And yes, it does get crowded. I can't even imagine what it would be like during the summer when school is out. The only problem with going out early is that it is cold to start. As you can see, I was bundled in a long sleeve shirt, two jackets, a scarf, a hat, an ear band and gloves. | |
| | |
| --- | --- |
| | As the day goes on and you travel further down in elevation, it does warm up enough to start shedding layers. And you really need those layers off when you start climbing back up. Both hikes were about three miles down and of course, three long miles back up. Doing a hike this way is a little different because the down is always easier than the up so you really don't know just how far you should go. |
| | |
| --- | --- |
| At one point we passed a mule train that had folks riding back up (easier on the legs but not on the backside).  Or I should say they passed us since they have the right of way. | |
| | |
| --- | --- |
| | We packed our lunch both days to give us the strength to get back up the canyon. What better place for a picnic lunch. Here is a shot of a pitstop area on the trail. You can see the trail going down to it. It was a good place to get more water if you needed it and to lather up with more sunscreen. And while I was lathering up, I was fighting off an aggressive squirrel that was trying to get into Kean's backpack. Those guys aren't stupid; they know where you hide the food. |
| | |
| --- | --- |
| Our hike didn't go all the way to the bottom. That would have been too much but we did go down far enough to get a view of the Colorado River and to get some good views from down in the canyon. An interesting sight was on the second trail we did.  The engineers cut the trail through the mountain itself. | |
| | |
| --- | --- |
| | It was a great two days of hiking and I am so glad that we did it. And of course, at the end of the hike on the second day was an ice cream shop. Couldn't pass that up, could we? Kean looks like one happy camper. |
| | |
| --- | --- |
| With the Grand Canyon being the main attraction on this segment of the trip, I can't neglect to share some of the other sights. We did a side trip out to Flagstaff and saw a giant crater left by a meteorite 50,000 years ago. We stopped at the Hoover Dam to check that out. And had a great dinner out and a Cirque du Soleil show during our stopover in Las Vegas. The show was amazing. Another must see that I highly recommend. | |
Well that about sums up the last couple of weeks. It has been action packed. And the fun will continue. We are now in Hurricane Utah preparing to hike Zion. Stay tuned.