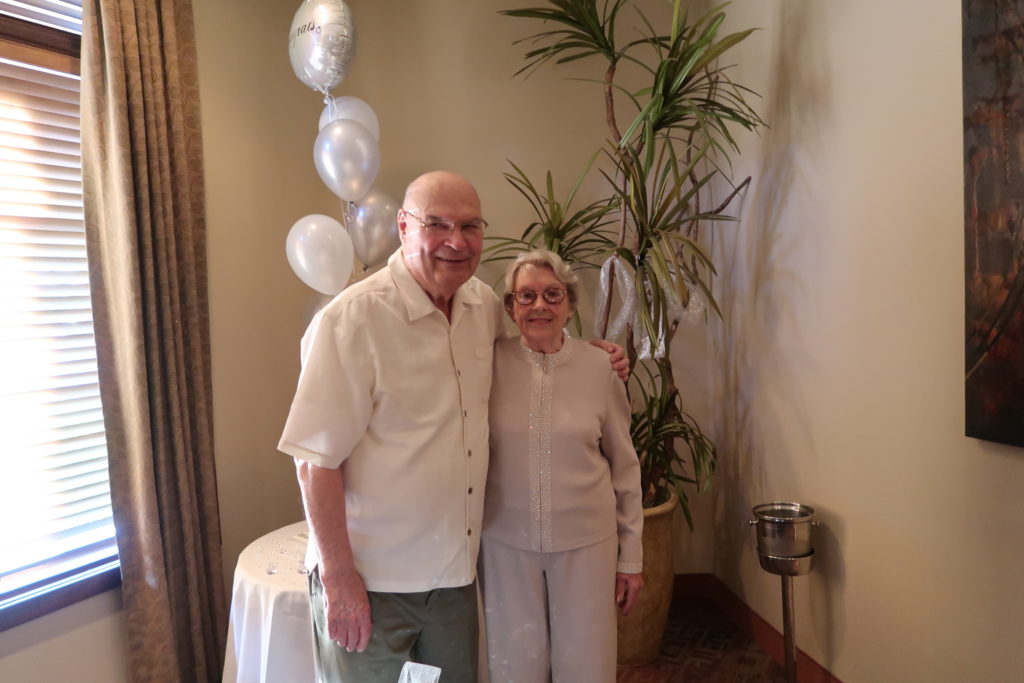 Isn't this a beautiful photo? I just had to start this post by sharing it with all of you. This is Kean's Mom & Dad at their 60th Wedding Anniversary party that was held on April 1st. Their actual anniversary isn't until June but no one wants to head to the California desert in June — it is just too hot there so we celebrated early. We left the motorhome in Arizona and drove back for the party. It was so much fun to be able to share it with them. What a milestone!
Well like the post title says, we are having lots of fun and have been super busy. It has been too long since I last posted but I just haven't had the time to actually sit down and write. I like to do it on rainy days but it has been a long time since we have seen rain. And with it being so beautiful out it would be a shame to waste the time inside. So with that being said this might be a long one.
We spent the last couple of weeks in Tucson hiking and playing golf. There was a warm spell there and the day we went hiking it was HOT! And there are no trees in Tucson, only cactus. We set out around 9:30 am but that wasn't early enough. We saw some beautiful sights but is was a tough one.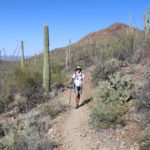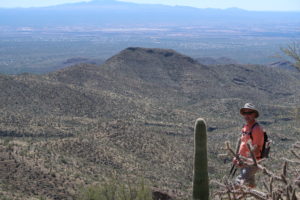 Of course we got in as much golf as possible.  It is fun to be able to play so many different courses.  This one was interesting because we had never seen this before  —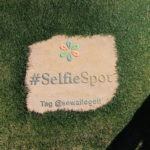 so of course we took a selfie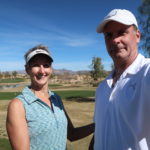 .  Another thing you don't see everywhere is what happens to cactus up near the men's tee boxes (of course you would never see this around the forward tees!)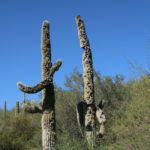 The poor things have been beat to hell.  Sometimes you see golf balls embedded in them.  They don't stand a chance.
Another thing we did in Tucson was a cave tour at Colossal Cave.  Kean signed us up for a ladder tour.  It was a small group, just another couple and us along with the guide.  He took us to parts of the cave that the regular tour doesn't get to go.  It was fun crawling around seeing deep into the mountain.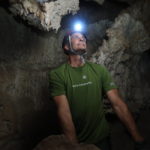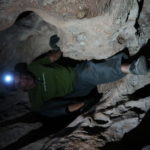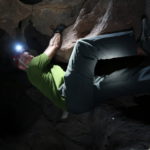 After a month in Tucson, we headed north to Phoenix.  We stayed just west of the Phoenix,  out of the really busy parts.  We were tasked by Kean's brother-in-law to check out some communities.  He and Kean's sister are thinking of retiring there.  After what we saw, it might be a great place for us too.  The weather is,  of course, great.  The cost of living is good.  And as long as  you stay outside the circle of Phoenix and Scottsdale, the traffic is not a problem.  We visited many communities that I could definitely call home someday.
We spent 3 weeks in the area and in addition to exploring we had a fantastic hike.  So different from the Tucson hike.  For one thing is was cooler.  We started out earlier, it was cloudy to start, and there is actual shade in this part of Arizona.  Plus with all the rain they have had this year, everything is in bloom and I have to tell you that it is absolutely beautiful.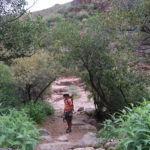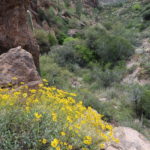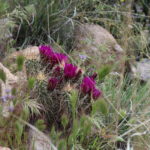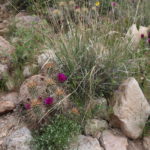 The goal of this hike was to get to the top and see Weaver's Needle.  It was a sight to see.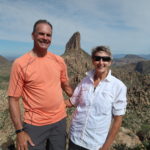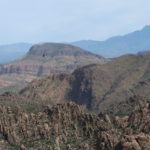 But I didn't get to the top unscathed.  I tripped on some rocks and fell.  Scraped up my arm so when we got to the top we had to do a little medical work.  Kean carries a first aid kit because he knows I am a clumsy and might need some medical assistance along the way.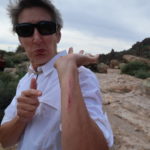 It really didn't hurt much and I was just thankful I didn't break my arm.  I went to my happy place after treatment.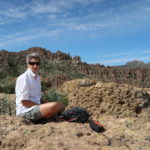 On the way up the mountain we passed what looked like caves across the way.  It was pretty far away so really couldn't tell.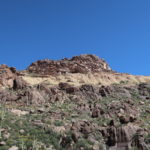 But on the way back down, we heard voices echo across the canyon.  We still couldn't see much but I took out my camera and snapped a photo using the zoom feature and sure enough, you can see the people inside the cave.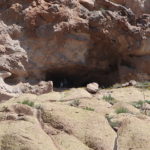 The same thing happened when we were looking at Weaver's Needle.  It looked like climbers were headed up but we didn't bring the binoculars.  So we snapped some zoomed in photos and could just barely make them out when we got home and looked at them on the computer, zooming in even more.
We did some desert driving around the mountains of the area.  Good thing we have a Jeep.  One day we drove around 30 miles on a dirt road and I have to tell you that the Jeep and the two of us were just covered in dirt.  Then when we got back to the motorhome, there had been a windstorm and we had left the windows open.  The inside of the motorhome was covered in dust.  There was some major cleaning going on that afternoon.  On this trip we stopped for our picnic lunch next to a mountain lake and this bird decided to join us.  
  Pretty, huh?
So now we are in Camp Verde AZ, just south of Sedona.  It was starting to get warm in Phoenix so it was time to head north.  We have already had some adventures here but I will wait to share them in the next post.   Happy Easter to you all!